Arts Downtown Outdoor Gallery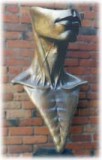 Providing a free, year round gallery of works created by students, professionals and emerging artists. Free walking tours are available. For more information, visit our website at www.artsdowntown.org
Liberty Theater
The Liberty Theater was built in 1924 and was the most modern theater of it's time. Completely renovated in 1999 by owner Tom Neumann, the grand event hall hosts such events as weddings, live concerts, dinner shows and more. For more information, visit our website atwww.thelibertytheater.com
Meeker Mansion
The Meeker Mansion is a 17-room Italianate Victorian mansion located in the heart of historic downtown Puyallup. It was built by Ezra Meeker, entrepreneur and the town's first mayor. Tours of the mansion are available. For more information visit their webesite atwww.meekermanstion.org
Puyallup Fair
For 17 days in September, the sixth largest fair in the nation operates in Puyallup. And for 4 days in April, the Spring Fair takes place in conjunction with the Daffodil Festival. The Fair features animals, entertainment, delicious food and an assortment of vendors. For more information visitwww.thefair.com.
Puyallup Main Street Farmers' Market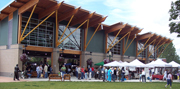 The largest Farmers' Market in Western Washington is located inside the Pioneer Park Pavilion in downtown Puyallup. Featuring locally grown produce and nursery items, processed and prepared foods, arts & crafts and more the Famers' Market operates every Saturday from May until October and Sundays from May until August.
Puyallup Public Library
Located at 324 S. Meridian, the Puyallup Public Library flanks historic Pioneer Park and offers adult classes, children's programs, seminars, movies along with a huge selection of books.