[CLICK HERE] to direct your tax dollars back into your community.
Main Street Tax Credits are a way of ensuring your tax dollars are invested in your downtown community.
Make a pledge of as little as $1,000 to Puyallup Main Street Association beginning January 10 to March 30, 2023, pay the pledge to PMSA by November 15th and 75% of your pledge will be deducted from your Washington Business and Occupation tax obligation.
For example: A pledge of $1,000 in 2023 equals a tax credit of $750 in January of 2024. Because Puyallup Main Street Association is a 501 (c) 3 non-profit organization, other tax incentives may apply. Check with your accountant for further details.
As you consider this request, if you have questions….or your colleagues have questions, please have them call the PMSA office at (253) 840-2631 or email us at director@puyallupmainstreet.com.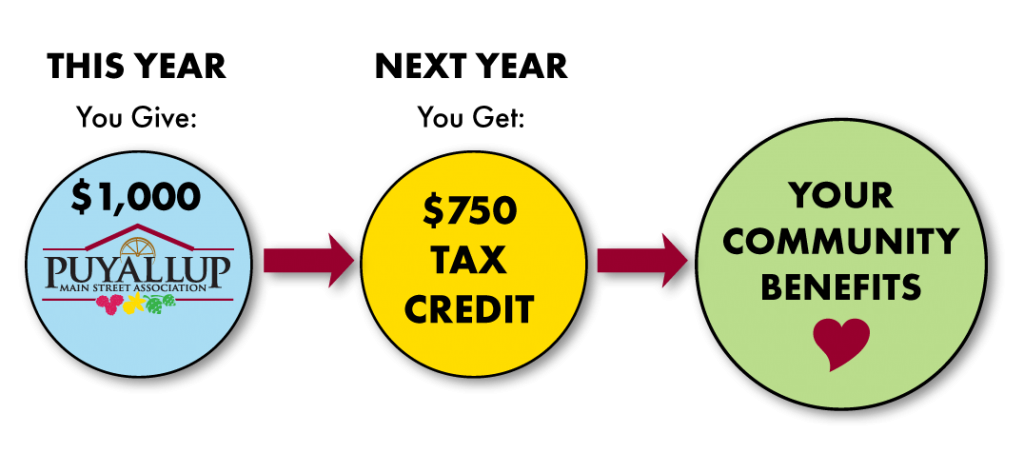 HOW DO YOU ACTUALLY GET THE TAX CREDIT?
Businesses must be registered to file their state excise tax electronically.
A donation request must be filled out and submitted online, but don't worry – it's easy! Step-by-step instructions are available here.
The donation can be spread out throughout the calendar year. Apply through DOR between January 10 and March 31 to guarantee your business will receive the credit. Once confirmed, the pledged amount must be paid in full to the Puyallup Main Street Association between January 10 and November 15, 2023 to receive the tax credit in 2024.
Businesses must take the tax credit the year after the donation is made – the tax credit can't be carried forward and there won't be a refund for any credit above and beyond a business' tax liability.
Payments to the Puyallup Main Street Association can be made through PayPal or by check.
Puyallup Main Street Association
PO Box 476
Puyallup, WA 98371
Thank you for your support of your Puyallup Main Street Association!
All funds raised go to directly to help aid us in our mission to promote community revitalization and share and maintain our rich history through historical preservation. Ultimately we hope to encourage the growth of our local businesses and promote a flourishing and rich community culture here in downtown Puyallup through the arts and events.
Currently we use PayPal for our donations. You can use the button below to make a donation of any amount. All donations are tax deductible since we are a 501C3 organization.