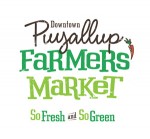 We are pleased to announce vendor applications are online and available for download for the 2012 Market Season.
This year we have again decided to open a tad early to allow our customers an opportunity to buy their plants, starts, hanging baskets and nursery stock locally rather than from big box stores.
If you've not signed up for Spring in the past, you might consider doing so this year as our opening weekend falls on the day of the Daffodil Parade. We expect a very high turnout of customers and intend to sparkle and shine with a great market day to entice new customers to return all season long. Look for PMSA to provide each vendor with market bags to be handed out to customers with minimum purchase requirements.
We are planning wonderful events at the market to include contents, demonstrations, giveaways and a few surprises too!
We hope you make plans to join us for our 30th Anniversary of the Puyallup Farmers Market.