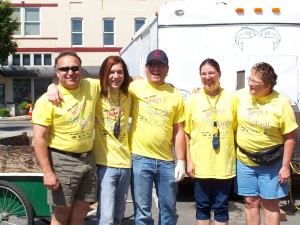 Thank you for your interest in becoming a Meeker Days Festival Ambassador! Our proud volunteers are what make this festival happen year after year! It takes a lot of dedication, time, and energy of our volunteers to make the Meeker Days a success!
Some of the benefits of volunteering during Meeker Days:
Food vouchers to use at our 30 food vendors
Commemorative ambassador t-shirt
Opportunity to meet new friends and have a great time
Community service hours for high school requirement
Support the Puyallup Main Street Association
Volunteer Duties include:
Poster distribution
Information Booth
Vendor load-in & load-out assistance
Tending to vendor needs
Stage Attendants
Hanging up banners/signage
Clean up
If you would like to become a volunteer for this amazing event, complete this online application or contact the Festival Manager at:
(253) 840-2631 or
email: meekerdays@puyallupmainstreet.com
There are many possible ways to get involved!